IT support that gets the job done without any fuss
We know IT trouble can be incredibly frustrating (and very costly to your business). But before you rip your computer from the wall and launch it across the room, take a deep breath, give us a call and put the kettle on.
Before you can say "Microsoft certified technicians" we'll be there to solve your problem and get your business up and running again.
Finding great IT support in Essex just got easier
We believe in simple, direct and honest advice. We don't try and sell you something you don't need. In fact, we help you get the most from the tools you already own. And we're proactive. This means we stop small issues becoming massive, expensive headaches – saving you both time and money.
We may be tech geeks but we speak like normal human beings and always make sure everything is fully explained. So whether you're IT savvy or you think a hard drive is a road trip to Wales, we're an IT support company you can rely on.
A quick message from our Chief Geek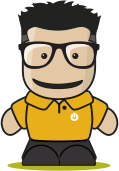 Hi, I'm Scott, founder and Chief Geek for Offsite IT.
I know that working with an IT company you can trust is a big deal. So I want you to know if you ever need to speak to the boss (that's me), you can just pick up the phone.
You can be sure we're focused on one goal: providing IT services that help you work harder and smarter.
During a long and successful corporate career I've developed, implemented and maintained IT systems for some of the big boys, companies like Bank of America, Ford Motor Company, Logica and NHS trusts.
And it's not just me who knows my stuff; all my techies are Microsoft Certified. Every year my technical staff (including me) train for and then sit proper monitored exams and pass professionally accredited qualifications. It means we stay up-to-date with current technology so your business can, too.
I know that running a business is hard and just how painful IT problems can be. With Offsite IT you're in safe and skilled hands (but don't just take our word for it… check out what our customers say here).
Whether you need us for just one hour or for on-going IT support, we aim to be the best of the IT companies in Essex.
Call us on 01245 205970 today
Contact us