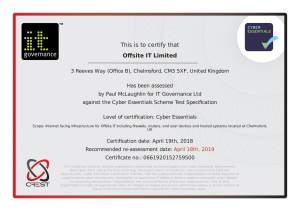 Offsite IT have successfully been awarded the Cyber Essentials certification. The data we hold is important to us and our customers, we obtained this certification as evidence that we take security of our systems and our customers systems very seriously.
What is the Cyber Essentials Certification ?
With the ever-increasing risk of cyberattacks it is important to stay up to date to ensure these attacks don't occur. The Government states cyber-attacks could be decreased by up to 80% with the implementation of the Cyber Essentials requirements. This also assists with your company GDPR (EU General Data Protection Regulation) compliance, this regulation replaces the Data Protection act on the 25th of May this year.